Christmas might be the Most Wonderful Time of the Year, but it can also be the most hectic. We all know that Jesus is the reason for the season, as they say, but it's all too easy to fly through the season hardly thinking of Him at all. Between shopping for gifts, attending parties, and making travel arrangements, finding time to pause with your family and reflect on the Incarnation of Christ can seem impossible.
Incorporating Jesus into your family's Christmas rhythm doesn't have to be complicated and time-consuming, though. It can be simple and even quite fun. You only need a few minutes a day and little bit of persistence. Here are a few ideas that our family has implemented over the years to help us focus on Jesus:
1. Read The Best Christmas Pageant Ever together.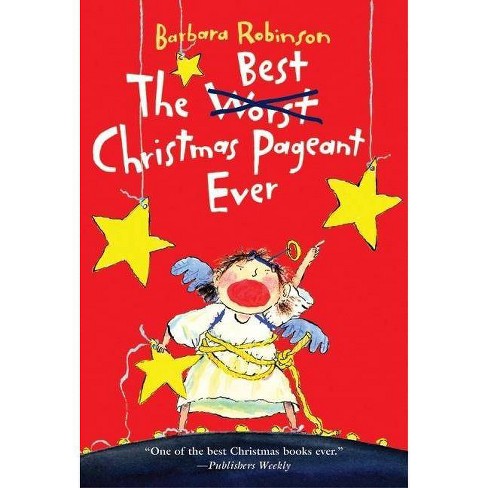 This book is a Christmas classic, but I'm often surprised by how many people have not heard about it. If you're thinking there's no way you have time to read a whole book out loud, trust me that this one won't take you as long as you might think. You can easily finish it in a week or so by reading 15 minutes each day. The story is worth the time. It centers on a small-town church whose yearly Christmas pageant is taken over by the seven Herdman kids, a terrible bunch of troublemakers who have absolutely no idea what Christmas is supposed to be about. Through the course of the story, they encounter the story of Jesus for the first time, and the rest of the community sees it with fresh eyes. My one minor caution is that this book is probably best for kids older than 7 or 8, because the Herdmans are unruly (they smoke and use some mild curse words), and some of their behavior borders on criminal. But we've always found this book to be a great conversation starter for our family. It points us toward the truly shocking nature of Christ's Incarnation – that the Son of God Himself would be born in a small town, surrounded by farm animals, to a poor young couple who were nobody particularly special.
2. Listen to Andrew Peterson's Behold the Lamb of God, and consider attending a performance.
This album has become our perennial Christmas favorite. Rather than traditional Christmas carols, Peterson's album contains original songs that tell the story of Christ's coming. He begins with the story of Passover and then moves through the remainder of the Old Testament before the album culminates with Christ's birth and the events that surrounded it. This is the sort of album that requires focused listening, especially the first time or two through it. It's not meant to be background noise. That's why I recommend trying to attend the yearly tour if there's a show happening near you. (For those who live in my neck of the woods, I'll mention that you can see this live on December 12th, 2021 at Central Baptist Church in College Station). If you can't get to a live show, however, play the album when you're in the car and encourage the family to listen to it carefully. This has become such a consistent yearly tradition for our family that I think all of our kids know the lyrics and songs by heart.
3. Watch A Charlie Brown Christmas together.
This is one of the only Christmas movies that our entire family agrees upon. Even our teenagers still ask us each year when we plan to watch it together. It has the advantage of being short (perhaps 30 minutes) and funny. Somehow the hapless Charlie Brown finds himself forced to direct the Christmas play. His friends refuse to cooperate during rehearsals, though, and Charlie Brown grows increasingly depressed. In frustration, he asks whether anybody even knows what Christmas is about. In response, Linus takes the stage and reads from Luke 2. The beauty of the movie is that it doesn't require us parents to give a lecture, read a book, or really do anything other than sit down and watch with our kids. The story does the heavy lifting. It's perfect if you're feeling exhausted, but also looking for something meaningful to do with your family.
4. Do a Jesse Tree devotional together.
Ordinary Advent calendars are great, of course, but the Jesse tree has the advantage of being both biblical and interactive. All you really need is a set of ornaments and a devotional book (here's an example of a devotional book, and you can find ornaments further down in the Frequently Bought Together section: https://amzn.to/3xHPG5m). You can use your normal Christmas tree, or you can purchase a small tree reserved for this purpose. Our kids enjoy having their own Christmas tree, so we have a small artificial tree reserved for this. Each day, starting on December 1st, you will read the short devotional and place a new ornament on the tree. Throughout December, the tree will fill up with ornaments and you'll have an opportunity each day to talk about a new aspect of the Christmas story. Similar to Behold the Lamb of God, the Jesse Tree begins in the Old Testament (usually all the way back at Creation) and walks through the entire Bible in light of Christ's coming. I'd estimate that this takes our family 5-10 minutes a day on average. It's a great way to focus everyone on the meaning of Christmas, and also to acquaint your kids with the entire story of Scripture.
5. Read Luke 2:1-20 and Matthew 2:1-12 while setting up your nativity.
If your kids are younger, they might actually enjoy "acting out" the Christmas story with the nativity scene pieces while you read the biblical stories of Christ's birth. I realize that if you have a breakable nativity scene, this might scare you. One option is to purchase a less expensive nativity (perhaps a plastic one) that the kids can play with. That way they can learn about the Christmas story, but they will not break the porcelain Willow Tree figurines. This is an activity that my family did on Christmas Eve when I was growing up, and we've continued it with our own kids.
6. Read and discuss How the Grinch Stole Christmas.
If your kids don't yet have the attention span for The Best Christmas Pageant Ever, this is an alternative. It's short, it rhymes, and it provides a perfect opportunity to talk about the real meaning of Christmas. The story ends with the subtle suggestion that Christmas has a meaning that is deeper than the materialism of our culture. However, the book doesn't talk about what that meaning actually is. Some years, we've taken a few minutes to read this classic and then to discuss how Jesus is the true meaning of Christmas. One note about this story: I personally don't think that any of the movies capture the essence of the story very well. The book is simple and focused, and it's a great way to talk about Jesus while doing something your kids will enjoy.
I'm sure there are dozens of other great ideas! Feel free to comment if you have one to add to this list. May your Christmas season be a joyful celebrating of our Savior!